ADRA Myanmar celebrates 35 years of service to the people of Myanmar since 1984 by holding a special Gala dinner for staff, partners, donors and Government representatives on the 30 May 2019 at Summit Parkview Hotel in Yangon.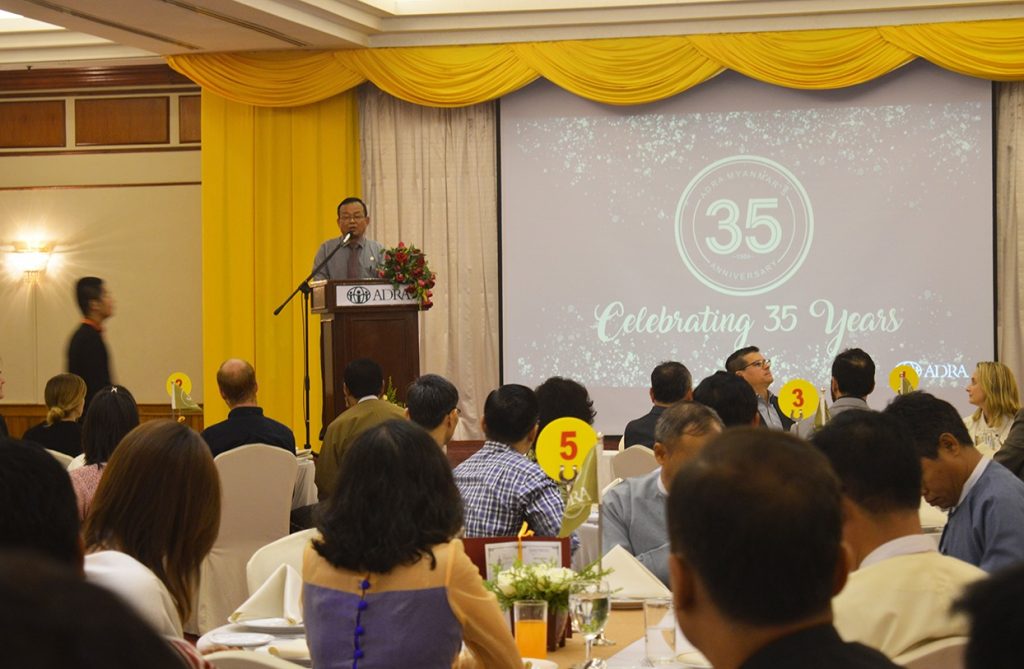 As guests entered the event upon registering, they could have their photo taken at the ADRA booth and walk around the photo exhibition of ADRA Myanmar's 4 sectors: Sustainable Livelihoods, Education, Health & Nutrition and Emergency Response.
As the program began, opening remarks and commentary were provided by SEAQE Project Director Saw William Po and SEAQE Finance Officer Vung Lal Din Mawi.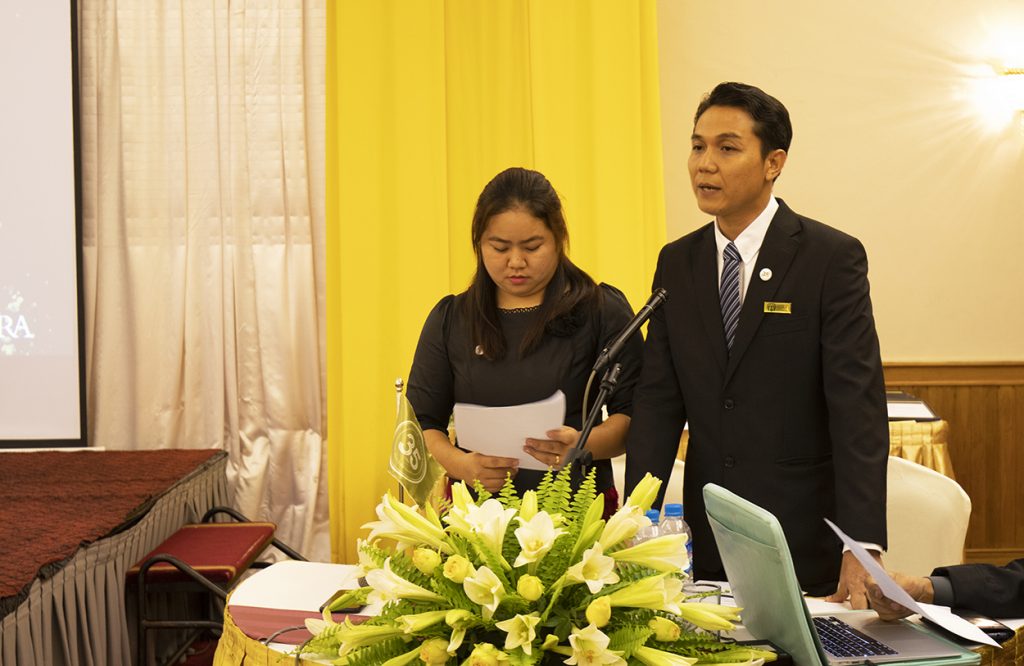 Welcome remarks and presentation of special guests was provided by Country Director Claudio Sandoval.
A brief history of ADRA Myanmar was provided by ADRA Asia Regional Office Program Director, Brendon Irvine who also served as a Former Country Director to ADRA Myanmar.
The ADRA Networks Global Vision was presented by ADRA International's President Mr Jonathan Duffy.
Award plaques of recognition to ADRA Myanmar's long term local partners were awarded, as well as certificates of recognition to ADRA partners, Former ADRA Myanmar Country Directors and current ADRA Myanmar staff with service of 10+ years.
Recognition of Local Partnership Award Plaques presented to:
– Government Technical Highschool (GTHS Hpaan)
– Karen Teachers Working Group (KTWG)
– Kachin Baptist Convention (KBC)
– Ministry of Health and Sport, Department of Public Health
– Ministry of Social Welfare, Relief and Resettlement, Department of Disaster Management
– Rural Indigenous Sustainable Education (RISE)
Recognition of International Partnership Certificates presented to:
– ADRA Asia Regional Office
– ADRA Australia
– ADRA International
– ADRA Japan
– ADRA New Zealand
– ADRA Norway
– ADRA Thailand
Recognition of Service as a Former ADRA Myanmar Country Director presented to:
– Kenneth Htang Suanzanang: 1989 – 1997 (8 Years)
– Saw Tember Chit: 1997 – 2000 (3 Years)
– Saw Teddy Din: 2000 – 2007 (7 Years)
– Min Lwin: 2011 – 2013 (2 Years)
– Brendon Irvine: 2013 – 2015 (2.5 years)
Recognition of 10+ Years of Service to current ADRA Myanmar Staff presented to:
– Aung Bo Bo Htay: 2003 (16 Years)
– Win Myint: 2003 (16 Years)
– Henry Lwin: 2005 (14 Years)
– Salome Lwin: 2006 (13 Years)
– Kyaw Sein Tun: 2006 (13 Years)
– Myat Wutt Yee: 2007 (12 Years)
– Sa Myo Aye: 2002 (12 Years)
– Saw Nathan: 2002 (12 Years)
– Khin Khin Yee: 2008 (11 Years)
– Myo Zaw Htwe: 2008 (11 Years)
– Nant Dahlia: 2008 (11 Years)
– Saw Kapaw Moo Oliver: 2008 (11 Years)
– Thura Maung: 2008 (11 Years)
Videos and photo presentations were displayed including a video about ADRA Myanmar's commitment to continue working with the people of Myanmar in reflection of 35 years of past service.
The launch of the ADRA global advocacy campaign 'Every Child, Everywhere, In School' was conducted. Guests were awarded advocacy tshirts and were given the opportunity to sign a global petition to advocate for Out of School Children in Myanmar which will be presented at the General Conference next year to world leaders.
The evening was a memorable one celebrating the culmination of 35 years operating in Myanmar. Here's to the next 35!

---
Written By: Emma McCrow, Communications Officer
Photo: © 2019 ADRA Myanmar | Emma McCrow, Brenda Britton & Thaung Han Soe
---