43 year old Daw N Lum Bawk Mai is mother to 4 children.
When conflict broke out in June 2011, Daw N Lum Bawk Mai, her husband, and their 4 children left their property and belongings behind to escape to the Chinese border with their parents in law.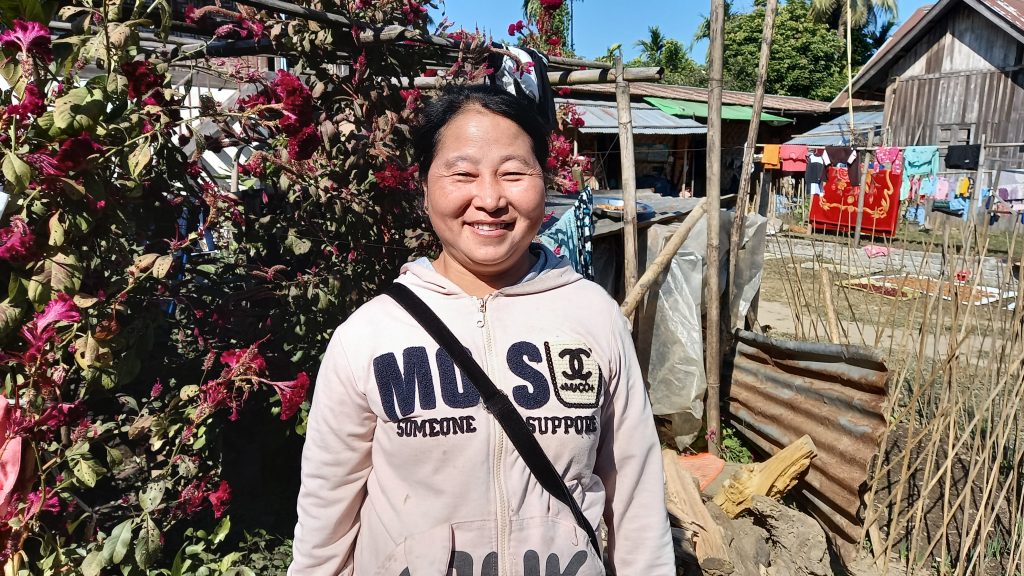 For 3 days and 2 nights they took shelter in the jungle eating the food they could carry and with only a few changes of clothes for the children, the youngest being less than 6 months old. With no money, they fled to Hka Shang in China where other relatives were living.
In 2012, Daw N Lum Bawk Mai become very sick for months on end. During this time, they relocated to Maina.
Once famers, their family owned two orange orchards and rice paddies, raising pigs, cows and chickens to earn 30 lahks each year. It was a simple life but they were happy.
Now as IDPs, they have primarily relied on support from organizations to as Daw N Lum Bawk Mai's husband finds limited opportunities to work as a daily laborer.
With one daughter now married, the other 3 children continue studies in the government school, but cash is limited.
The Ministry of Foreign Affairs of the Czech Republic and ADRA Czech Republic funded ELS2 project has been providing cash assistance for education to vulnerable IDP families in Kachin State.
Though living in an IDP camp has been difficult for Daw N Lum Bawk Mai and her husband, the education opportunities for their children have been positive. Daw N Lum Bawk Mai also volunteers as an accountant in the camp office and has supported the ELS2 project in many ways.
"I am so thankful for your support at this difficult time. We can use this cash assistance for our children's' education, computer training, school fees and school uniforms."
---
Written By: Hkawn Din, ELS2 Education Officer
Edited By: Emma McCrow, Communications Coordinator
Translated By: Pyae Phyo Lin, Communications Assistant
Photo: © 2021 ADRA Myanmar | Hkawn Din
---