Rich in natural resources and the second largest country in SouthEast Asia, Myanmar is surprisingly one of the worlds least developed countries where more than one quarter of the local population live below the poverty line.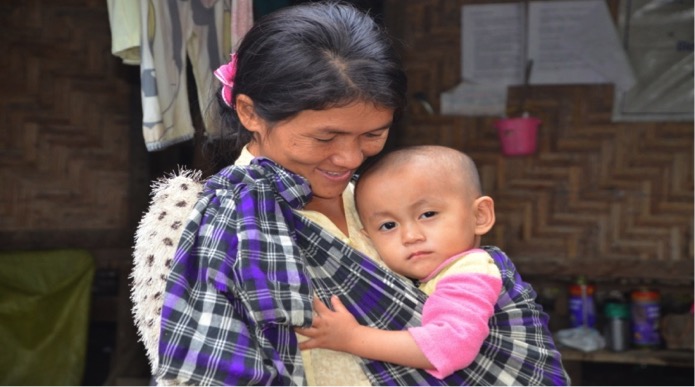 Under nutrition rates depict 35% of children show signs of stunting due to chronic malnutrition and 8% exhibit acute malnourishment. Food insecurity and financial instability leave thousands of families unable to provide the most basic necessities. Sporadic conflict and inter-communal violence impede food supplies and those affected often go without.
Jmuk, an IDP (Internally Displaced Person) living in a camp in Myanmar's far northern Kachin State, lives with her husband and daughter, April Bawk Seng. Amongst the world's 22 burden countries for TB, Jmuk's husband like 197,000+ others in Myanmar, contracted Tuberculosis and is now unable to work and provide for his family. Jmuk's daughter April suffered from severe malnutrition and constant illness due to lack of income unable to provide sufficient nutrition and medicine.
As a key focus of ADRA Myanmar's emergency response projects targeted at assisting IDPs, a partnership was formed with ADRA Canada and GAC-IHA to implement the SCAIDP II 'Support to Conflict Affected IDPs in Kachin State Project Phase II'.
Jmuk, now like 9,189 other IDPs in the area, receives a cash grant of 10,000 MMK each month to cover urgent living expenses. Jmuk puts this money towards multi-vitamins and milk she boils for her daughter April costing 7,500 MMK per month, the remainder she gives back to God. After just 2 short months of support, April's weight returned and her health has already improved.
Jmuk told ADRA Myanmar project staff, "now my child (April) is not ill frequently and it decrease expense of medicine because of good nutrition. I also do my house work happily."
---
*Reported By: SCAIDP Project Team
Written By: Emma McCrow, Communications Officer
Photo: © 2016 ADRA Myanmar
---