On 20 March 2013, a small local dispute between several individuals in Meiktila town of Mandalay Region (state) in Myanmar escalated on 21 March 2013 into communal clashes between the Buddhist and Muslim communities. This resulted in a total of 44 fatalities with 61 injured, according to government sources. Due to arson attacks during the communal clashes 1,174 houses have been destroyed and a further 420 damaged in 6 wards of Meiktila town resulting in initially 12,846 people (2,091 households) being displaced (majority due to loss of houses but also a proportion due to on-going fear of violence).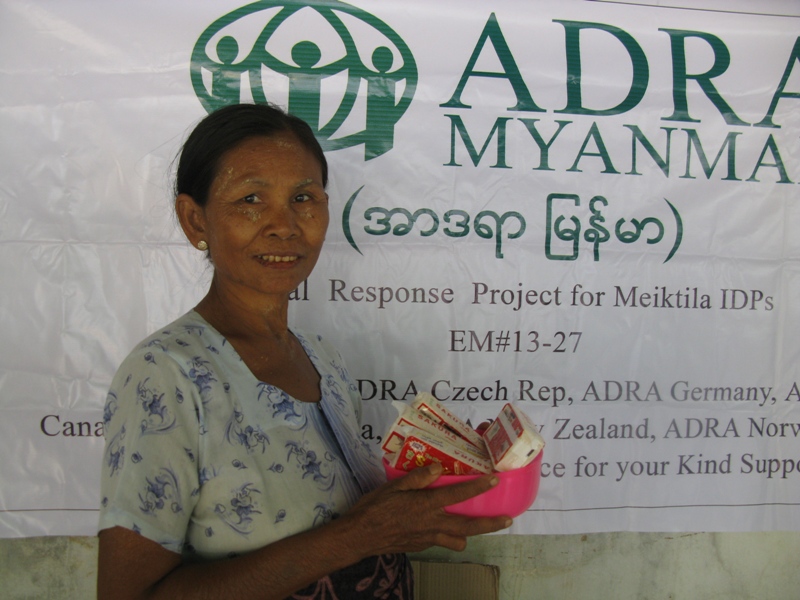 The government declared a state of emergency and imposed a curfew from 7pm to 6am and deployed a heavy police presence to separate the clashing communities and protect the displaced (latest data on 17 May 2013: 855 Buddhists sheltered in 2 Monasteries and 4054 Muslims sheltered in 1 WRUD (Water Resources Utilization Department), 1 Central Transport Department and 1 sports stadium; a total of 4909 people within 1415 families/households). Government allowed for those who willing to return to their home and if their dwellings are not damaged.
The initial response was distribution of 770 mosquito nets, 20 no. of 400 gallons size water containers and 100 no. of water dippers to the IDPs from 7 camps and the amount was USD 20,000 and total 770 IDPs families were directly assisted by the distribution of mosquito nets and the rest IDPs were share equally to use water from distributed water containers at each different camps.
ADRA Myanmar received USD 38,500 for supporting of internally displaced people from 5 different camps in Meiktila, Mandalay Region, Myanmar. The proposed plan was distribution of 40 gallons size water containers and hygiene kits for the remaining 1415 IDPs households/families in 5 camps.
Key Activities on following date:
– 17 May 2013: Meeting with Deputy Director of MoSWRR from Meiktila Township and Program Coordinator from ADRA Myanmar at the Government meeting hall. Discussion was made together with him for ADRA planning and project activities for Meiktila IDPs.
– 20 May 2013: Quotations was collected from different suppliers and agreement was made between the best services and price given supplier's from Meiktila.
– 25 May 2013: The ADRA Logos and visibilities were printed at each water barrels and Distribution plan was made for 5 camps.
– 27 May 2013: Meeting with the Deputy Director of MoSWRR from Meiktila Township and Country Director of ADRA Myanmar and members' was made on last week of May, 2013. The team visited to one of the IDPs camps in Meiktila.
– 09 June 2013: Distribution started in 5 different camps and ADRA distributed slip for each individual IDPs family and 40 gallons size water barrels were distributed firstly for 1415 IDPs family living in 5 different IDPs camps.
– 04 July 2013: Distribution of hygiene kits includes (5 no. of 200 g weight bathing soaps and 18 cm size water dipper for 1415 individual families) completed successfully on early first week of July, 2013.