Each year, ADRA Myanmar staff from both the field and support office, join together for a capacity building based staff retreat. This year we went international and travelled to Bangkok, Thailand staying at the Avani Atrium Hotel from 10-14 March.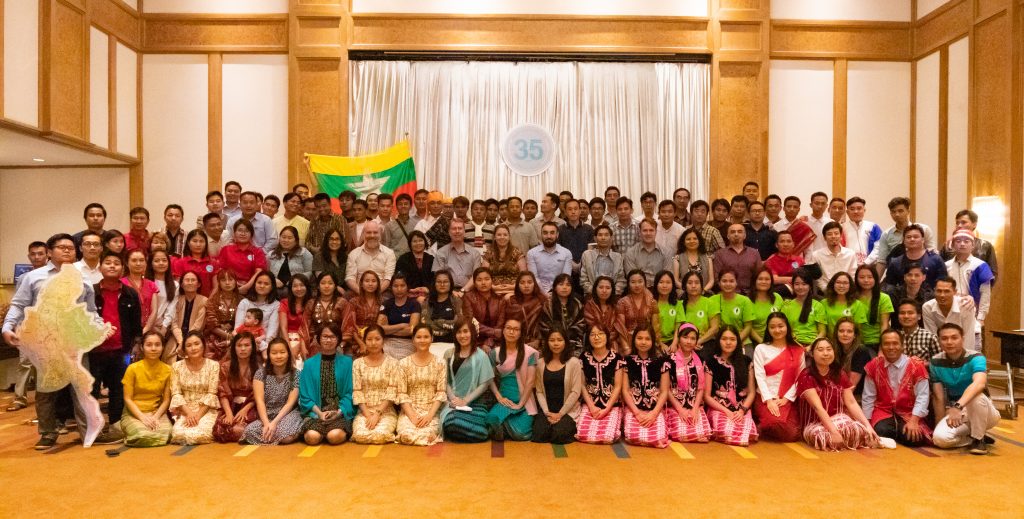 Capacity Building and training activities included; Safety and Security training, Gender training, project presentations by Project Managers, Fraud and Corruption training, Finance training, HR training, and the launch of the new ADRA rebrand.
Mark Webster (Regional Director), Brendon Irvine (Program Director) and Ronald Sandoval (Finance Director) from the ADRA Asia Regional Office also attended the retreat on certain days to present topics on; Servant Leadership Training, Network Training and breaking down the new ADRA motto (Justice, Compassion, Love).
Staff also visited the Seventh Day Adventist School Mission and Lumphini Park for group activities, games and fellowship.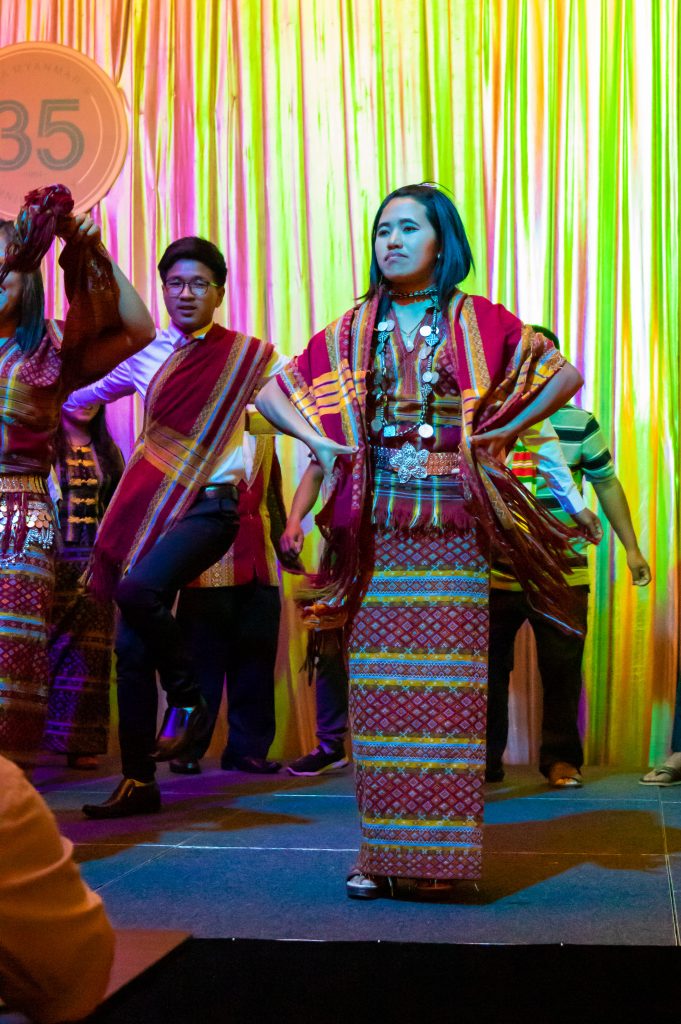 A special dinner was held on Thursday night 13 March in celebration of ADRA Myanmar's 35th Anniversary. Each project performed a special number which mostly featured traditional dances and songs.
နှစ်စဥ်နှစ်တိုင်း ADRA Myanmar စီမံကိန်းဝန်ထမ်းများနှင့် ထောက်ပံ့ရေးရုံးမှ ဝန်ထမ်းများအားလုံးသည် စွမ်းဆောင်ရည်မြှင့်တင်ရေးအတွက် အတူတကွတွေ့ဆုံစုစည်းလေ့ရှိကြသည်။ ယခုနှစ်တွင်လည်း ထိုင်းနိုင်ငံ၊ ဘန်ကောက်မြို့သို့ မတ်လ ၁၀ ရက်နေ့မှ ၁၄ ရက်နေ့အထိ သွားရောက်ကာ Avani Atrium Hotel တွင် တည်းခိုခဲ့သည်။
အဆိုပါခရီးစဥ်အတွင်း အောက်ပါသင်တန်းများပေးခြင်းနှင့် စွမ်းဆောင်ရည်မြှင့်တင်ရေးလှုပ်ရှားမှုများ ပါဝင်ခဲ့သည်။
Safety and Security training၊ Gender training၊ project presentations by Project Managers၊ Fraud and Corruption training၊ Finance training၊ HR training၊ and the launch of the new ADRA rebrand. စသည့်တို့ဖြစ်သည်။
ထို့နောက် Mark Webster (Regional Director)၊ Brendon Irvine (Program Director) နှင့် ADRA Asia Regional Office မှ (Finance Director) ဖြစ်သူ Ronald Sandoval  တို့သည်လည်း Servant Leadership Training၊ Network Training နှင့် ADRA ဆောင်ပုဒ်အသစ်ဖြစ်သော (Justice, Compassion, Love)တို့နှင့် ပတ်သက်သော အကြောင်းအရာများကို ဆွေးနွေးတင်ပြရန်အတွက် ယင်းအစီအစဥ်သို့ တက်ရောက်ခဲ့သည်။
ဝန်ထမ်းများအားလုံးသည်လည်း Seventh Day Adventist School Mission နှင့် Lumphini ပန်းခြံတို့သို့ အဖွဲ့လိုက်အတူတကွပူးပေါင်းလှုပ်ရှားမှုများလုပ်ဆောင်ခြင်းနှင့် ပျော်ရွှင်စရာ ဂိမ်းအစီအစဥ်များ ဆော့ကစားရန်အတွက် သွားရောက်လည်ပတ်ခဲ့ကြသည်။
ယင်းနောက် ADRA Myanmar ၏ ၃၅ နှစ်ပြည့် နှစ်ပတ်လည်အထိမ်းအမှတ်အဖြစ် မတ်လ ၃၁ ရက် ကြာသာပတေးနေ့တွင် အထိမ်းအမှတ်ညစာစားပွဲတစ်ခုကို ကျင်းပခဲ့ပြီး စီမံကိန်းတစ်ခုချင်းစီမှ ဝန်ထမ်းများကလည်း နှစ်ပတ်လည်အထိမ်းအမှတ် အထူးဂဏန်းတစ်ခုလုပ်ဆောင်၍ ရိုးရာအကများကပြခြင်း၊ သီချင်းများကိုသီဆိုဖျော်ဖြေခြင်းတို့ဖြင့် အသီးသီးတင်ဆက်ကပြ ခဲ့ကြသည်။
---
Written By: Emma McCrow, Communications Officer
---